At Kingborough Family Church, we're about loving God, and loving people. We're passionate about empowering people, living compassionately, and serving our community as best we can.
We love doing life together. Church isn't just about coming together on a Sunday, but it's about connecting with each other, building relationships and sharing in one another's lives. We aim to be inclusive, generous, and most of all, we welcome you, no matter who you are or where you've come from.
Kingborough Family Church is affiliated with the Apostolic Church Australia, a Pentecostal movement that has its origins in the Welsh Revival of 1904. We operate with an eldership, who provide oversight to the church, who are accountable to our network leader and national leadership team. Please visit the Apostolic Church Australia website if you would like to know more.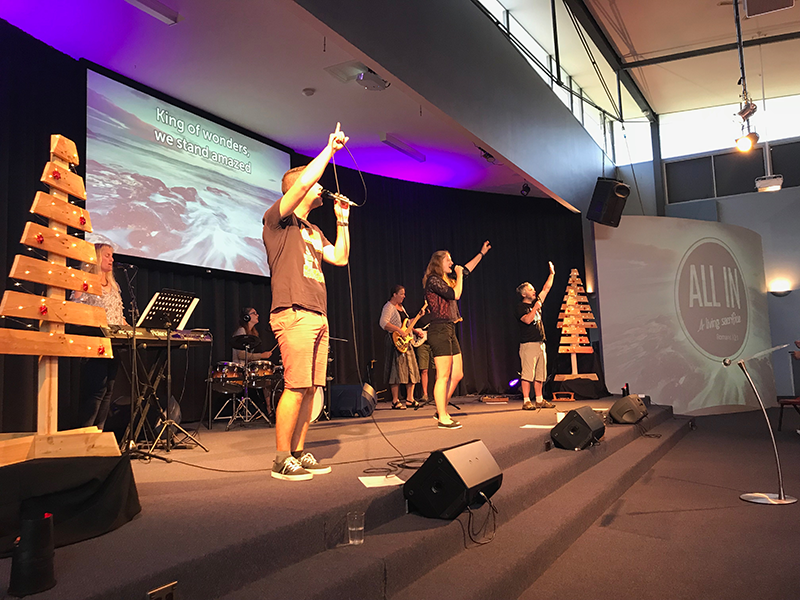 "Equipping people and Transforming Communities"
Our passion is to introduce people to Jesus Christ so they can be transformed by His love and power. We desire that all people would come into a living, life-changing relationship with Him and realise that all we do needs to be driven by His love and performed in His supernatural power.
Ephesians 3:19 "…may you experience the love of Christ, though it is so great you will never fully understand it. Then you will be filled with the fullness of life and power that comes from God."
Our purpose is to equip people for life and ministry through training and discipleship; we are passionate about being a church where people discover their uniqueness, realise their dreams and fulfil their God-given potential. Our desire is to mobilise new generations of effective Christian leaders.
Ephesians 4:11-12 "He is the one who gave these gifts to the church: the apostles, the prophets, the evangelists, and the pastors and teachers. Their responsibility is to equip God's people to do his work and build up the church."
Our plan is to be a significant church in our city, influencing our workplaces, schools, communities and social groups. We believe the church must engage with the community in which it exists and are committed to impacting our world through service and outreach. We have a heart to bless and encourage other churches and Christian leaders. We also have a strong call to reaching the nations and are committed to effective church planting.
Acts 1:8 "But when the Holy Spirit has come upon you, you will receive power and will tell people about me everywhere — in Jerusalem, throughout Judea, in Samaria, and to the ends of the earth."
God – God is our first priority.
This includes the concepts of relationship with God, loving God, obedience to His word, personal devotion, a lifestyle of worship, and commitment to His cause.
Belonging – The church should be a community of people who love, care for, value and esteem one another.
This includes the concepts of relational authenticity, acceptance, forgiveness, restoration and connectedness.
Evangelism – We are passionate about reaching unchurched people.
This includes the concepts of relational evangelism, evangelism as a process, need oriented outreach and serving our community.
Relevance – The church should be culturally relevant so as to reach this current generation effectively.
This includes the concepts of being real, relational, passionate and contemporary in style and expression, in our lives, ministry, worship and prayer.
Equipping – The church exists to prepare God's people for ministry and service.
This includes the concepts of teaching for life change, discipleship, and spiritual growth, coaching and training in ministry, life skills, parenting, marriage, and financial stewardship.
Empowerment – Christians should be filled with the Holy Spirit expressing God-given gifts and abilities.
This includes the concepts of 'gift-oriented' ministry, ministry callings, and spiritual gifts, the supernatural and spiritual renewal in our everyday lives and gatherings.
Excellence – We believe in giving God our best and have God's glory and obedience to his will as our highest aim.
This includes the concepts of continual evaluation and improvement.
Integrity – We value integrity and Christ-like character.
This includes the concepts of honouring God and each other, personal character, accountability and wholeness.
Leadership – The church should be led by men and women with leadership gifts.
This includes the concepts of God-given authority, recognition of call and gifting, empowerment, servant leadership, correction, strategic focus and church governance that is leadership not congregationally driven.
Service – Christians should serve God, our community and each another willingly and enthusiastically.
This includes the concepts of servanthood, dedication and kingdom purposes.
Teamwork – Success can only be achieved together and every member of this church is valued and necessary.
This includes the concepts of unity, giftedness and accountability.
Generosity – We believe in being generous with our time, finances, and talents.
This includes the concepts of faith, stewardship, sound financial management, wealth creation and care and compassion for helping those in financial and material need.
At Kingborough Family Church, we are led by our Senior Pastor Mark Ireland and his wife Andrea, and our team of Elders who are together responsible for the overall direction and vision of our church. we also have Ministry Area Leaders who support this vision by providing leadership and facilitation of various ministries within the church.
Please check back soon for profiles of the leadership team here at Kingborough Family Church.